2012 Smithsonian Folklife Festival Map

CLICK HERE to Print Your 2012 Smithsonian Folklife Festival Map.

---
CAMPUS AND COMMUNITY
A program commemorating the 150th anniversary of the founding of land-grant universities and the USDA.
The year 1862 marks the founding of two types of institutions that touch the lives of people across the United States and the world every single day: public universities and the U.S. Department of Agriculture (USDA). Public and land-grant universities and the USDA partner with communities to put research into action in the areas of agriculture and food, health care, sustainable living, urban and rural revitalization, and education. This Festival program will bring these partnerships to life through demonstrations, discussions, and hands-on activities.
Exercise your green thumb in our garden spaces; get advice from Executive Master Gardeners and learn how to grow your own pizza garden!
Attend a "mini-university" class on entomology, paleontology, sustainable energy, and many other topics!
Explore innovative ideas that communities are using to repurpose items usually considered trash!
Try a wide variety of 4-H program family activities, from gardening with heirloom seeds to robotics competitions!
Enjoy community-based music and dance, which helps preserve and nurture traditional knowledge and keeps students motivated!
Share a story about your personal experience with public university and USDA programs!
Did you know?
President Abraham Lincoln signed the Morrill Act, which created the land-grant universities, in 1862, during the Civil War.
The initiator of the bill founding land-grant universities, Justin Smith Morrill, was also a regent of the Smithsonian from 1883-1898.
The Association of Public and Land-grant Universities (APLU) was founded in 1887 and today serves 217 members, including universities in the land-grant system as well as public universities and associated organizations across the U.S.
The total number of land-grant universities in the system is 105, which includes at least one university in each state and U.S. territory.
The Cooperative Extension Service, created through the Smith-Lever Act of 1914, is a non-formal educational program administered by the USDA and based at land-grant universities. It is designed to help people use research-based knowledge to improve their lives.
Land-grant universities added to the system in 1890 (including historically black colleges and universities or HBCUs) are known commonly as "the 1890s." Native American tribal colleges were added in 1994, and are called "the 1994s."
---
CITIFIED: Arts and Creativity East of the Anacostia River
This Festival program looks at creativity, identity, and community in Far Southeast Washington, D.C., neighborhoods. Presented in collaboration with the Smithsonian's Anacostia Community Museum, it highlights the connections among residents of urban communities as expressed through arts and creativity. Citified alludes to the fact that many African American residents living east of the Anacostia River have parents or grandparents who migrated from the rural South, particularly South and North Carolina, and who continue to maintain connections with their southern (although often no longer rural) heritage. Citified also refers to the ongoing transition from cultural and performance traditions shaped primarily by southern rural agrarian environments to those shaped primarily by wage work in urban industrial environments.

There is a diverse range of arts and cultural activities practiced in formal and informal settings in communities east of the river. From singing in local choirs to cooking at home, from mural painting to television production, and from tattooing to storytelling, people creatively express their identities and demonstrate their community commitments. These artists foster learning between generations, and provide inspiring examples for strengthening social relationships and building healthy communities.

Join the Anacostia Community Museum staff and Festival participants in celebrating the creativity and cultural expression found in schools, churches, community organizations, businesses, and other venues in East-of-the-River neighborhoods. Meet master artists and creative, inspiring residents from this part of Washington, D.C. Enjoy performances by line dancers, African dancers and drummers, church choirs, hip-hop artists, comedians, and go-go bands. Listen to storytellers; watch demonstrations of tattoo art; learn how to make quilt blocks from members of a multi-generational quilting guild; and participate in craft activities.

In recent years, decreases in public and private funding have diminished opportunities for arts and cultural activities in the community and in the schools. Despite significant obstacles for people engaging in creative cultural and arts activities; despite the pressures to buy instead of create; despite the fact that many are juggling jobs, going to school, attending to business, and preoccupied with meeting the physically and emotionally challenging demands of everyday life in an fast-paced urban environment, there are people who still find the time to create, innovate and invent, and imagine. Citified celebrates their efforts and highlights the vitality of arts and culture to strengthening community life.

The Citified program is part of a long-term Anacostia Community Museum initiative, Call and Response, which explores arts and creativity through exhibitions and installations, museum collections, and community-focused programs. The Anacostia Community Museum is dedicated to a mission centered upon contemporary urban communities, and to research, documentation, and programming that are community-focused. At the core of the museum's work is the belief that active citizen participation in the recovery and preservation of community historical assets, cultural and arts activities, and community advocacy are important and powerful instruments for creating and maintaining a sense of community and civic ownership.

---
CREATIVITY AND CRISIS: Unfolding The AIDS Memorial Quilt
The year 2012 marks the 25th anniversary of The AIDS Memorial Quilt and 30 years of life with AIDS. With the introduction of The Quilt in 1987, The NAMES Project Foundation redefined the tradition of quilt making in response to contemporary circumstances. Through hands-on panel-making activities, individuals and communities come together to remember loved ones, grieve, find support and strength, and engage in dialogues for change. This program will feature the remarkable artistry, inspiration, and impact of The AIDS Memorial Quilt and provide the public with an unparalleled opportunity to experience this highly charged symbol of the AIDS crisis and the largest community art project in the world.

Today, The Quilt contains nearly 48,000 panels, and it has been viewed by more than 18 million people. It is much more than pieced-together fabric squares: it is a moving and monumental creative collaboration; it is a catalyst to remember, understand, educate, and act.

Creativity and Crisis: Unfolding The AIDS Memorial Quilt is the first Festival program to focus exclusively on community craft and performance that were directly developed in response to crisis and grief. With The AIDS Memorial Quilt as the anchor and through craft demonstrations, dance and musical performances, interactive discussions, and other activities, this program will commemorate the innovative and resourceful ways through which communities have endeavored to educate people and to cope with one of the most complex epidemics in modern history.

The Festival will bring together approximately 100 visual artists, designers, quilters, dancers, musicians, community activists, and others who will share the knowledge and creativity that shape their efforts to disseminate the message of the AIDS crisis. Quilt panel-making groups from around the country will demonstrate and teach a variety of traditional quilting techniques. Volunteers and staff from The NAMES Project Foundation will perform the rituals surrounding new panels and their incorporation into the entirety of The Quilt. The program will also feature other artistic responses to the AIDS crisis, and will host moderated conversations with project contributors, community leaders, and pioneers. A designated Festival venue will be the site for sharing and documenting visitors' personal stories and creative expressions related to living in the age of HIV and AIDS.

Visitors of all ages will have the opportunity to learn quilting techniques, make panels, and share stories from their own experiences. A large portion of The Quilt will be displayed throughout the Festival site, with sections incorporated into the various demonstration and performance venues, reinforcing The Quilt's size, visual impact, the scale, and diversity of people impacted by HIV and AIDS.

Creativity and Crisis: Unfolding The AIDS Memorial Quilt program at the 2012 Smithsonian Folklife Festival is a partnership between the Smithsonian Center for Folklife and Cultural Heritage and The NAMES Project Foundation, with the support and participation of many others.

Did you know?
The Quilt extends for 1.3 million square feet and weighs over 54 tons.
It would take 33 days to view the entire AIDS Memorial Quilt, spending only one minute per panel.
More than 91,000 names are incorporated into The Quilt.
Quilt panels are assembled from a variety of materials, both conventional and unconventional. These include, for example, Barbie dolls, car keys, bubble wrap, Legos, tennis shoes, credit cards, and a Sony Walkman.
On average, one new panel is added to The Quilt every day of the year.
---
Smithsonian Folklife Festival Evening Concerts
West Virginia University's Steel Band Drum Ensemble featuring Ellie Mannette
Date: Wednesday, June 27, 2012
Time: 6:00pm – 7:30pm
Location: Justin S. Morrill Performing Arts Center

National Museum of African American History and Culture presents Bring Back the Funk featuring George Clinton, Ivan Neville and Dumpstaphunk, and Meshell Ndegeocello
Date: Wednesday, June 27, 2012
Time: 6:00pm – 9:30pm
Location: Panorama Room

Azerbaijani Music with Imamyar Hasanov and Pezhham Akhavass
Date: Thursday, June 28, 2012
Time: 6:00pm – 7:30pm
Location: Justin S. Morrill Performing Arts Center

Smithsonian Folkways Recordings presents Quetzal and La Sardina de Naiguatá
Date: Friday, June 29, 2012
Time: 6:00pm – 8:00pm
Location: Justin S. Morrill Performing Arts Center

The Music of Monticello and the Blue Ridge
Date: Friday, June 29, 2012
Time: 6:00pm – 8:00pm
Location: Panorama Room

An Evening of Song with In Process and the Rock Creek Singers
Date: Saturday, June 30, 2012
Time: 6:00pm – 8:00pm
Location: Red Hot

Ralph Rinzler Memorial Concert: Celebrating Worth Long's Legacy
Date: Saturday, June 30, 2012
Time: 6:00pm – 8:00pm
Location: Panorama Room

Hungarian Roma Music with Kálmán Balogh
Date: Sunday, July 1, 2012
Time: 6:00pm – 7:30pm
Location: Justin S. Morrill Performing Arts Center

Azerbaijani Music with Imamyar Hasanov and Pezhham Akhavass
Date: Thursday, July 5, 2012
Time: 6:00pm – 7:30pm
Location: Justin S. Morrill Performing Arts Center

Smithsonian Folkways Recordings presents University of Texas-Pan American's Mariachi Aztlán and Mariachi Los Camperos de Nati Cano
Date: Friday, July 6, 2012
Time: 6:00pm – 7:30pm
Location: Justin S. Morrill Performing Arts Center

University of the District of Columbia Jazz Ensemble
Date: Saturday, July 7, 2012
Time: 6:00pm – 7:30pm
Location: Justin S. Morrill Performing Arts Center

Evening Cabaret
Date: Saturday, July 7, 2012
Time: 6:00pm – 8:00pm
Location: Red Hot
---
Smithsonian Folklife Festival Photo Galleries
Images help us remember special days and events. Come along on our journey as we capture memorable times and places in our Photo Galleries.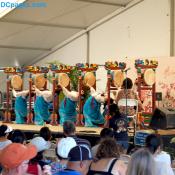 44th Washington DC Smithsonian Folklife Festival
The 2010 Smithsonian Institute Folklife Festival kicked off June 24, 2010 in Washington DC to record heat in the nation's capital. Running from June 24-28 and July 1-5, the festival features outstanding examples of different cultures worldwide, bringing them front and center, on display, so their traditions and cultures can be enjoyed by the general public on the National Mall. This year's featured cultures are Asian Pacific Americans and Mexico.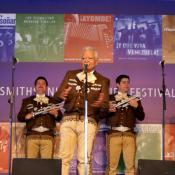 43th Washington DC Smithsonian Folklife Festival
The 43rd Washington DC Smithsonian Folklife Festival Themes include; GIVING VOICE: The Power of Words in African American Culture, WALES-SMITHSONIAN-CYMRU, and LAS AMERICAS: Un Mundo Musical (THE AMERICAS: A Musical World). Giving Voice will present the deep, rich threads of the African American oral tradition. Wales (Cymru in Welsh) is a dynamic and resilient nation. Las Américas, the final and most broad-reaching program of the Nuestra Música: Music in Latino Culture Smithsonian Folklife Festival "living exhibitions" series will feature outstanding artists from the United States and Latin America in an engaging cultural dialogue.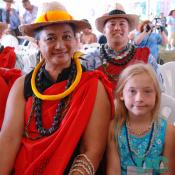 40th Washington DC Smithsonian Folklife Festival
The Smithsonian's Folklife Festival kicks off on the National Mall Friday for its 40th year. This year's evening concert series is titled "Been in the Storm So Long," and features African American musical traditions from the region devastated last year by Hurricane Katrina.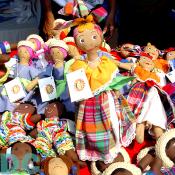 38th Washington DC Smithsonian Folklife Festival
The 38th Annual Smithsonian Folklife Festival on the National Mall starts on June 23rd and will be going on until July 4th. Join in on the celebration! Themes this year are: "Haiti: Freedom & Creativity from the Mountains to the Sea", "Nuestra Musica: Music in Latino Culture", and "Water Ways: Mid-Atlantic Maritime Communities". So head on down to the Mall and enjoy the music, cultural activites and displays.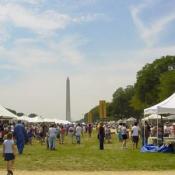 37th Washington DC Smithsonian Folklife Festival
The 2003 Folklife Festival explores the cultural traditions of Mali, Scotland, and Appalachia. Exhibits include, Mali: From Timbuktu to Washington, Scotland at the Smithsonian, and Appalachia: Heritage and Harmony. Glimpses into the traditional and modern cultures represented at the 2003 Festival, are offered through craft and textile demonstrations, music performances, storytelling, an instructional kitchen, architecture, and much more.
Smithsonian Folklife Festival General Information
The Festival is held outdoors on the National Mall in Washington, D.C., between the Smithsonian museums. There is no admission charge. Visitors should dress for hot and humid weather. Parking around the Mall is extremely limited, so visitors are advised to use Metrorail. The Smithsonian station (Mall exit) is at the Festival site. Federal Triangle and National Archives stations are close by. During the Festival, call 202.633.7484 to hear a recorded description of daily events. For general Smithsonian visitor information, call 202.633.1000 (voice) or 202.357.1729 (TTY).

Festival Parking
Limited - Side Streets and $10-$20 Day Pay Lots

Metrorail Finder
National Mall - Smithsonian Station
(Blue & Orange Lines)

L' Enfant Plaza Station
(Blue, Green, Orange & Yellow Lines)

Federal Triangle Station
(Blue & Orange Lines)

Festival Hours
The Opening Ceremony of the Festival will take place on the at 11:00 a.m., Wednesday, June 27. Thereafter, Festival hours will be 11 a.m. to 5:30 p.m., with special evening events.

Festival Cost
FREE - There is no charge for admission

Services Visitors with Disabilities
Large-print and CD versions of the daily schedule and a CD version of the program book are available at the Festival Information kiosks and the Volunteer tent. The program book is available in other formats upon request. A limited number of wheelchairs are available for loan at the Volunteer tent. Audio loops are installed at the music stages. Service animals are welcome. American Sign Language interpreters are available on-site and can be requested at the Volunteer tent; the Festival schedule indicates which performances and presentations are interpreted.

First Aid
A first aid station is located near the Smithsonian Metro stop on the Mall at Jefferson Drive and 12th Street.

Thunderstorms
In case of a severe rainstorm, visitors should go inside a museum during visiting hours. Summer rainstorms are usually brief, and often the Festival resumes operations within an hour or two. In the event of a thunderstorm, the Festival must close. Do not remain under a tent or a tree!

Restrooms and Telephones
There are outdoor facilities for members of the public, including visitors with disabilities, located near each of the program areas on the Mall. Additional restroom facilities are available in the museum buildings during visiting hours. Public telephones are available on-site—opposite and inside the American History and Natural History museums.

Lost and Found/Lost People
Lost items or family members should be brought to or picked up from the Volunteer tent located near the Smithsonian Metro stop on the Mall at Jefferson Drive and 12th Street.

---
Smithsonian Folklife Festival History
Every summer since 1967 the National Mall becomes possessed by Folklife fever as thousands of people throng the nation's front lawn for the Smithsonian Folklife Festival.

The Festival, which normally starts at the end of June and goes on for about 10 days, unlocks a hidden passageway that transports visitors into smaller versions of communities that sustain Folklife as designed by the Smithsonian. The minute one walks out of the Smithsonian Metrorail station on to the National Mall it is hard not to stand back and be impressed by the sights and sounds that differ from year to year. Communities represented have been from Mexico, India, the Bahamas, Kentucky or New Hampshire to name a few.

The Folklife Festival is often described as a living breathing, walking and talking museum. Through this live museum people share community-specific traditions passed down for generations. Traditions people still live out daily. Festival visitors get a unique opportunity to view a variety of cultures in replica of the world the presenters come from. At times visitors also get to savor the entire sensory range of a culture by listening, touching, seeing, feeling, smelling, and tasting samples of vibrant environments that may be vastly different from their own.

When people hear the term "Folklife" all sorts of visions start dancing in their heads. They may think, primitive cultures, or traditions brought over from the "old country" or even the guitar inspired hippie lifestyle from the Bob Dylan era. But New York City as a hotbed of Folklife activity is most certainly not the first example of Folklife most people think of.

Nancy Groce, curator of the New York City program 2001, tried to clear up those misconceptions about Folklife. "Folklife puts emphasis on traditional cultures, it gives a unique sense of place. Sometimes it may be ancient …Folklife can be found in a third world country or a first world city like New York," said Groce. Groce also stated, "The festival attempts to highlight the cultural aspects of a different state or region, a country and one other arena each year."

The festival themes are born from years of research and other scholarly work. However, what makes the traditions shared with thousands, truly authentic is that the participants in the Festival are not actors of any kind and many are not academic scholars. They present these traditions only as they have lived them.

Life-sized objects of the different cultures have been set up on the Mall such as " a horse race course form the Capitol to the Washington Monument, a Tennessee moonshine still in sight of the Justice Department… and a buffalo birth on the Mall." These according to the Smithsonian Folklife Festival Culture Of, By, and For the People written by Richard Kurin director of the Center for Folklife and Cultural Heritage.

Groce said that each year federal or state governments for different nations, states or regions often ask to join or are included in the Festival because there have been some interesting fieldwork on those cultures. And according to the Folklife Center's web site:

"The Festival has strong impacts on policies, scholarship, and folks "back home." Many states and several nations have remounted Festival programs locally and used them to generate laws, institutions, educational programs, books, documentary films, recordings, museum and traveling exhibits. In many cases, the Festival has energized local and regional tradition bearers and their communities, and thus helped to conserve and create cultural resources."

In Kurin's book he said that the festival is done each year 'for the people to be heard, so that people may be encouraged, so that we learn and so that we celebrate cultural democracy.'

The Festival came about because as Secretary of the Smithsonian Institution in 1966, S. Dillon Ripply wanted to bring more excitement to the Mall and simultaneously to the Smithsonian, said Kurin, via telephone. He thought the ideal attraction would be music, Kurin said, because Ripply grew up in New England where summertime meant band music. Ralph Rinzler, former civil rights activist, who was familiar with music ranging from Cajun, to Blues and Appalachian was hired to help plan the first Festival. Rinzler became an integral part of the Festival up until his death in 1994. Kurin said the Mall was not always a popular meeting place, and Rinzler had been inspired by the Rev. Dr. Martin Luther King's March on Washington, to make use of it. "Rinzler saw that frequent use of the Mall signaled active participation in cultural and public life. Museums were narrow in terms of what they represented and were thought of as dusty and [restrictive,]" said Kurin, "The question then became, 'Why not show culture as alive in people's lives and communities?"

From then to now, over its 35-year history, said Kurin's book, the festival has drawn over 32 million people. The Smithsonian Folklife Festival is an exciting opportunity to stand in wonder, touched by the lives, legends, and lessons of our world's many cultures.

---
Smithsonian Folklife Festival Marketplace
The Smithsonian Folklife Festival has helped supported international and local artists and musicians by selling their arts, crafts, and music in the Marketplace tent since the late 1960s. The Smithsonian Folklife Festival Marketplace is located on Jefferson Drive, SW on the lawn in front of the U.S. Department of Agriculture. The Marketplace is open from 10:00am – 6:00pm every day of the Smithsonian Folklife Festival.

The Marketplace features items that are made by artists that are participating in the Smithsonian Folklife Festival and include baskets, books, crafts, jewelry, pottery, and more. Musicians that are performing at the Festival will also have their CD's for sale at the Marketplace along with past years' performers.

Every purchase you make at the Smithsonian Folklife Festival Marketplace supports both the artists helps to sustain the development of traditional crafts. The Marketplace also gives you the opportunity to purchase unique crafts and gifts from around the world as many of these products are not available at any retail outlets and are appearing in the United States for the first time.

---
©1994-2012 DCpages.com