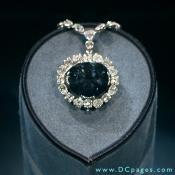 Hope Diamond - National Gem Collection
They say a diamond is a girl's best friend. Imagine taking your date to the world's greatest collection of gems on display at the Smithsonian Institution's National Museum of Natural History. More than 7,500 individual gemstones, ranging from less than a half-carat to almost 23,000 carats, fill the cases in in the Janet Annenberg Hooker Hall of Geology, Gems, and Minerals.
Haines Point - Perfect for Proposals
This is the place in Washington DC for that perfect moment. For years, Haines Point has been one of the more popular spots to propose in all of Washington on Valentine's Day. Do not forget to stop by the dramatic, larger than life five-piece sculpture called "The Awakening." It depicts a man seemingly arising from out of the ground as he stretches upon awakening.